MEYLE passenger car filters – true to the original. High-quality, high-performance filters.
MEYLE passenger car filters are true to the original and boast extraordinary details such as meticulously crafted pleated elements, adhesive and high-quality filter media, thus ensuring optimal MEYLE filter performance. All MEYLE cabin air filters and oil, air and fuel filters are inspected and tested at MEYLE's in-house quality lab in Hamburg.
With around 1,400 filter solutions for every passenger car, the MEYLE filter category is your first choice when it comes to a high-quality, comprehensive product portfolio – with competitive coverage rates for European markets and European vehicles outside Europe.
MEYLE cabin air filters. To protect your health.
Innovative MEYLE particle and activated carbon cabin air filters purify the air inside the vehicle and protect the driver and passengers from dangerous and harmful gases, particles, fine dust, fungi, bacteria and allergens. Selected cabin air filters are manufactured in Germany.
MEYLE air filters. For optimal combustion and performance.
MEYLE air filters purify the air drawn in by the engine to ensure seamless combustion as well as prevent a drop in performance and early wear and tear on mechanical components.
MEYLE fuel filters. For optimal performance and high resistance.
To ensure no foreign particles end up in the engine's injection system and damage the engine, fuel filters remove dirt particles and water from the fuel.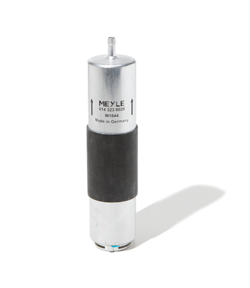 MEYLE oil filters. For optimal engine lubrication, reduced wear and tear, and maximum performance.
Internal combustion engines are lubricated with oil. True to the original, MEYLE oil filters remove burned oil, metal debris and dirt to maintain engine lubrication and performance at all times.