For us, manufacturing means more than just production of parts: manufacturing a part begins with the first idea for a product or for an optimised MEYLE HD product. A great deal of time and effort go into research, the fine-tuning of specifications, prototype and quality tests, and coordination before an item can be manufactured by production machines and employees.
Due to the high degree of effort that our MEYLE engineers put into these steps, we take pride in our MEYLE parts, which are "ENGINEERED AND QUALITY APPROVED IN GERMANY". MEYLE parts are developed strictly in line with the guidelines and specifications of our own engineers at the Hamburg location, and overseen and tested in the production process.
Find out more
Would you like to improve the car park coverage of your portfolio? Let us talk!
MEYLE engineering: Production in high precision and quality.
Production is carried out at our own plants in Turkey as well as at the facilities of selected partners in an international network. MEYLE engineers have many years of experience and an in-depth understanding of innovative manufacturing processes, allowing use to manage our global production processes with high precision and quality.
Our production process is certified in accordance with the ISO/TS 16949 standard, which allows us to supply production parts to original equipment and vehicle manufacturers (OEMs). Thanks to high flexibility and short production times, we can optimally respond to current spare part requirements in the independent aftermarket.
A combination of outstanding engineering expertise and flexible manufacturing options has made us a development partner for premium OE manufacturers such as Morgan, which is based in the UK.
Supply chain management
Nearly 60 years of expertise and experience in procurement, logistics, import and export form the foundation of our efficient supply chain management.
Thanks to effective planning methods, targeted management of production facilities and careful monitoring, our business partners benefit from a service-oriented and needs-based flow of goods around the world. Highly efficient warehouse logistics are key for the flow of goods.
Our headquarters in Hamburg alone therefore boast a storage space of 29,000 m², accommodating more than 56,000 pallet spaces, 20,000 lower shelf spaces and 1,500 flow rack spaces, all of which are managed using a fully integrated IT system.
With a fill rate of more than 95%, we're a flexible and dynamic partner for our customers in 120 countries around the world.
The production of MEYLE car parts
MEYLE has two of its own production facilities which manufacture steering and suspension and rubber-to-metal parts. In the areas in which we're unable to manufacture ourselves, we work with an international network of development and production partners, including renowned OE suppliers which manufacture parts in accordance with our own stringent specifications and standards.
We would like to emphasise that, even if we don't manufacture all the parts at our own production facilities, all our expertise and the engineering knowledge that comes from the manufacturing and production process at our own plants are applied to the specifications for further MEYLE parts. These are then produced for us by renowned development partners and thus live up to our high standards as well as those of original equipment suppliers.
To ensure our high quality standards during the manufacturing process, our quality engineers audit our production partners at regular intervals.
Taking a closer look into our production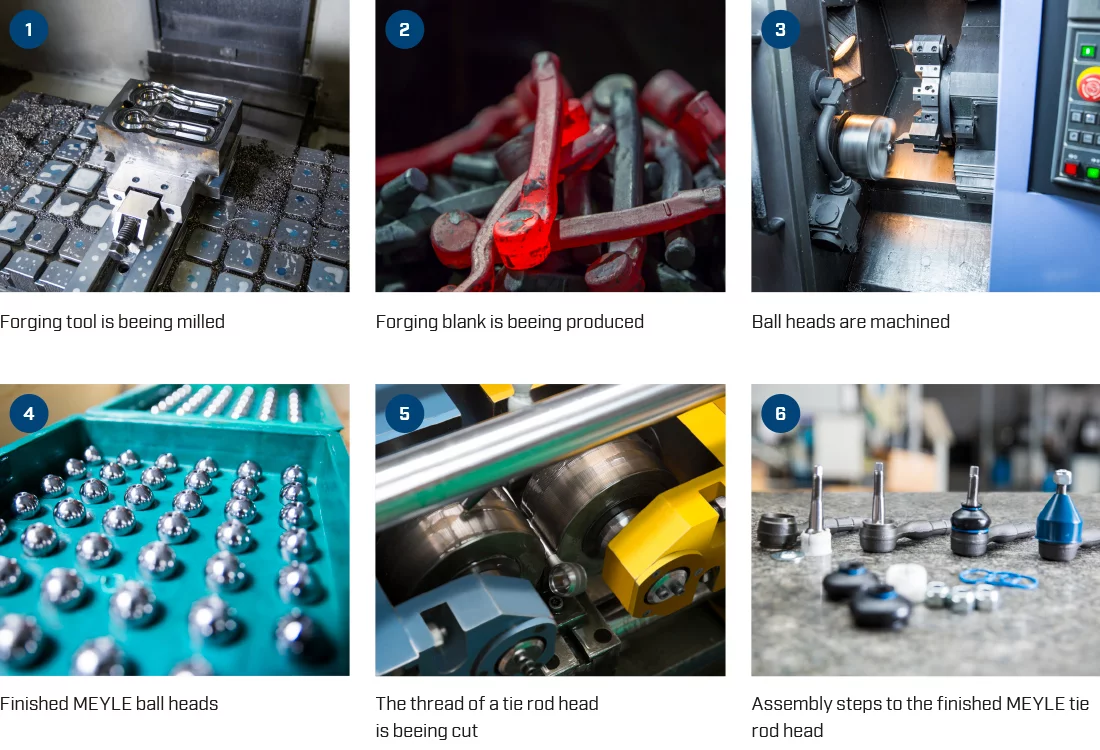 Other Topics
Newsletter
The MEYLE newsletter: Get the latest product news, calendar updates and more – subscribe now!
The MEYLE App
Everything there is to know on MEYLE automotive spares available at the touch of a button with the MEYLE Parts App.