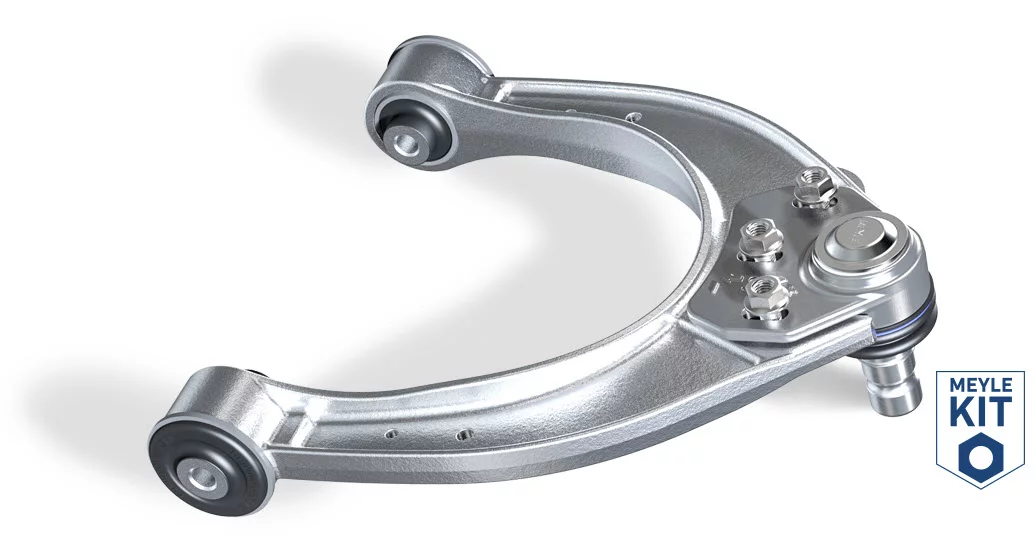 Improved design for longer service life: MEYLE-HD parts deliver enhanced durability. Compared to OE, MEYLE-HD is technically improved with reinforced inner parts, using higher quality materials or optimized design solution.
MEYLE-KIT with 3-in-1 control arm kit replaces 3 different OE designs. Continuously variable guiding suspension ball joint with clear position display for wheel camber correction. No need for initial wheel alignment when installing the kit.

Problem
Wear out of ball joints and rubber bushings due to high vehicle weight and strain to components

OE part with correct camber can only be identified during time intensive wheel alignment check before installation

Solution
Variable guiding suspension ball joint with clear position marking allows easy camber correction

Replaceable MEYLE-HD ball joint

MEYLE high-tech grease inside
Marc Erdmann
(Engineer at Steering & Suspension department)
The MEYLE-HD control arm offers a wide range of benefits.
One single control arm catering for all three OE control arm versions; clear marking of the adjustment options
Separately replaceable ball joint – only available from MEYLE-HD
Ball joint with anti-corrosion finish and innovative socket made from highly wear-resistant rubber material
Reinforced bushings for longer part life