MEYLE HD stabilizer kits come with a full set of mounting parts and a 4-year warranty.
To fit SEAT Ibiza | Skoda Fabia | VW Polo
On some Volkswagen Group models stabilizer thrust plates may break owing to age, causing the stabilizer mounts to lose their lateral guiding. In addition, exposure to environmental influences such as moisture, road salt and dirt gradually eats away at the protective coating of the stabilizer increasing the risk of corrosion between the
stabilizer and mount. The result: irritating noise during compression and rebound and when cornering.
Once a component does fail, it almost always causes damage to adjacent parts. This is why MEYLE engineers strongly recommend that all system-relevant components be replaced at once.
MEYLE now offers stabilizer kits in HD quality with a four-year warranty including all parts necessary for highquality repairs in compliance with work time allowances.
Supplied in a cardboard box the MEYLE HD stabilizer kits contain the stabilizer, the MEYLE HD stabilizer links, the stabilizer mount and a full set of mounting hardware. MEYLE HD stabilizer kits – for cost-effective repairs at their simplest!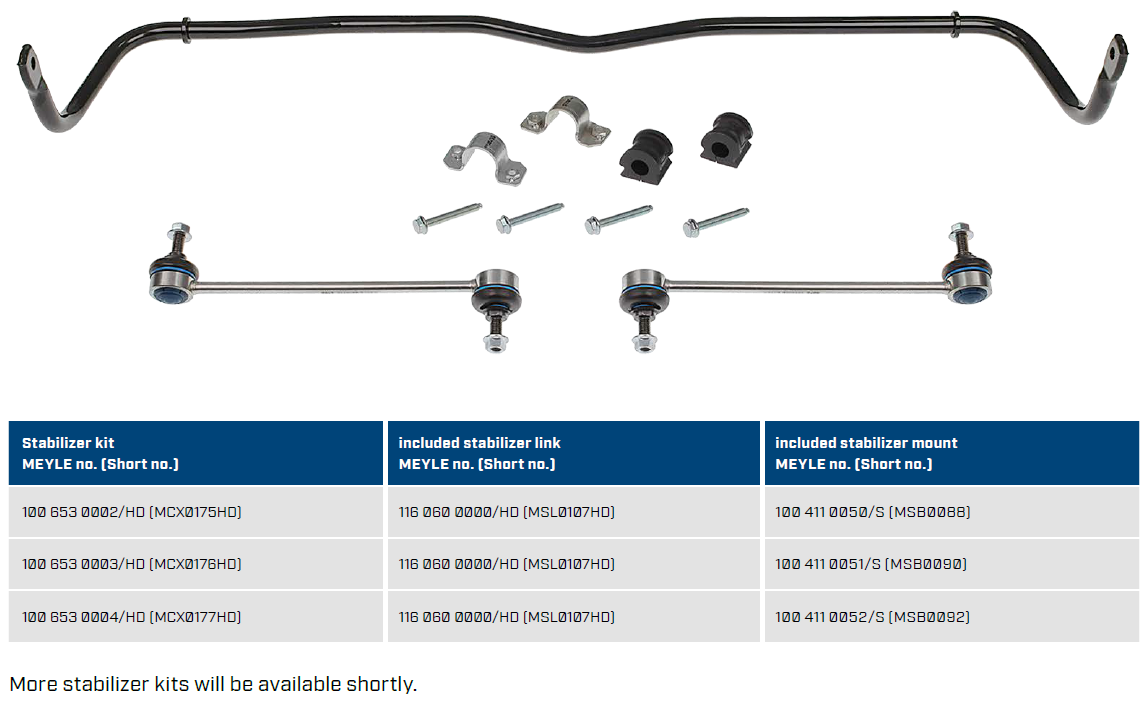 Other Topics
Newsletter
The MEYLE newsletter: Get the latest product news, calendar updates and more – subscribe now!
The MEYLE App
Everything there is to know on MEYLE automotive spares available at the touch of a button with the MEYLE Parts App.